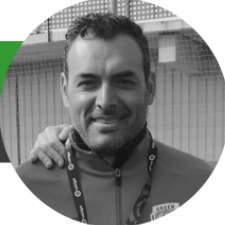 OBJECTIVE
My main goal is to find a position in which I can apply my skills educating children with what I know which is all about soccer. Also helping them to grow as individuals and eventually as athletes.
EDUCATION
Flushing Meadows Park, Queens New York 'E' license NSCAA course June 2009
All Saints School Norwalk, CT 'D' License NSCAA course May 2012
Mohegan Sun, Uncasville CT Level 5 Diploma NSCAA March 2013
Sacred Heart University, Fairfield CT Certification for CPR and First aid September 2013
SKILLS
I am a bilingual coach who is a former draftee for the MLS. And former semi professional soccer player in Colombia S.A. Now a trainer with experience teaching children from the ages of 3 and up. Works well under pressure, I know how to manage large groups very timely. And have been successfully managing a premier team for the last 4 years. Also still very much an active soccer player myself. Currently have a soccer team of adults that I manage in Stamford, CT.
EXPERIENCE
Soccer coach, Greenwarrios soccer club Aprill 2011 – present
Soccer coach, White Plains Soccer Academy June 2011 – August 2013
Soccer coach, Sol De America soccer Academy April 2009 – January 2011
ATFA Argentinian License for U-18 in Buenos Aires
Argentina with Club Atlético Boca Juniors.
Basic Football methodology for U-15 and under in Madrid, Spain with AD Alcorcón.